Fast Flow Conference – Lessons on How to Organise to Improve Speed to Market
A couple of weeks ago, a few JCURVers attended the FastFlow Conference – the first public event of its kind to focus on the approach and methodologies described in Team Topologies by Matthew Skelton and Manuel Pais.
We were privileged to be joined by one of our clients, JP Morgan who shared their experience applying team topologies to improve flow in a market-leading enterprise platform, a journey we recently supported them with. A link to their talk can be found here: https://youtu.be/y3OL7dv2l48
Other practitioners, experts and enthusiasts of team topologies and improving flow across their organisations shared their experience, thoughts and learnings on different topics ranging from 'Aligning Around Goals Not Roles' to 'Bringing Product Thinking to Your Platform'.
Some of our key takeaways from the conference include:
Taking a team first design – this is not an empire:
Evolve traditional organisational design into a continuous, iterative and team centric approach to adapt to the ever changing world we live in
Define roles and responsibilities and continuously revisit to ensure these meet the needs of the organisation
Have a clear understanding of ways of working (these will be unique from team to team) – each team can create Team 'APIs'. A Team API is simply a description telling others how to interact with that team. For more information on this: https://github.com/TeamTopologies/Team-API-template
Continuously Design for flow
If too many dependencies, you don't have your organisation design right!
Understand where your dependencies and where waste and silos are, use these to inform how your organisation design needs to evolve
Your organisation design will need to continuously evolve from quarter to quarter.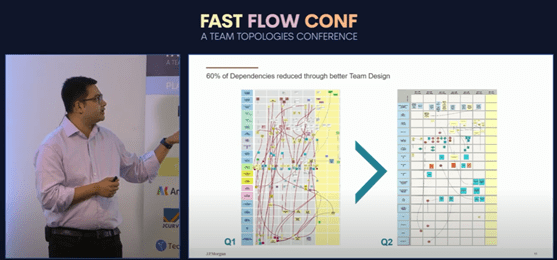 Cross functional team collaboration
Teams need to be information radiators providing transparency across teams to remove dependencies, duplication of work and siloed working
Don't underestimate the power of team cohesion- invest in team building activities
Don't confuse cross-functional teams with scrum teams (design for flow instead)
Not all teams need to be cross-functional, for some complex system teams, this may not be the right answer.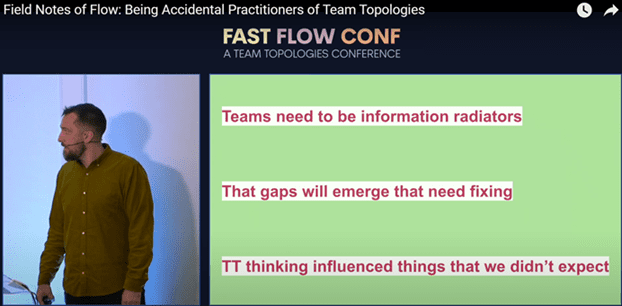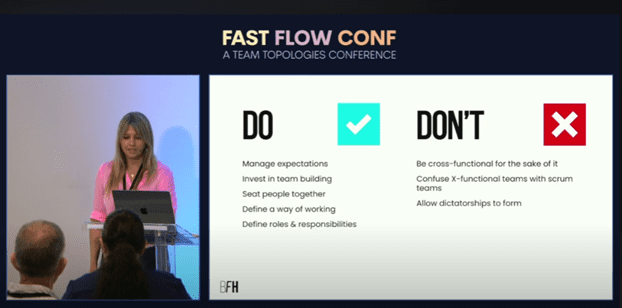 Continuously innovate to stay close to your customer:
Customer centricity is key- leverage Design/Product Thinking and Service Design techniques to better understand your customer
Give teams the space to innovate – time to think about what are the new problems customers are facing and how can these be solved
Technology teams need to be involved in understand the customer and user journeys and the customer problems they are trying to solve before jumping into solution mode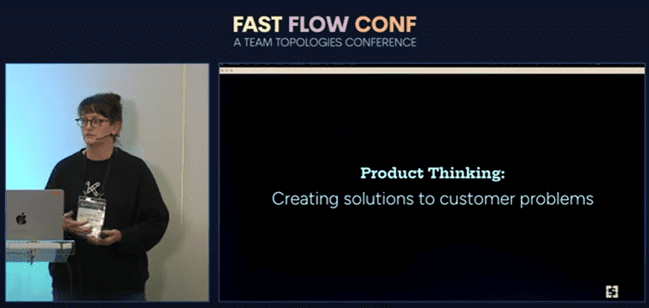 All videos to the talks can be found here: (194) FastFlowConf – YouTube
If you want to get in touch with us and speak more about designing for flow across your organisation get in touch!