Why traditional PMOs are stuck on 'red'
Many organisations are reinventing their change approaches and operating models so they can thrive in uncertain and volatile markets. In many cases, project management offices (PMOs) remain untouched, under-invested, and exempted from these necessary challenges. This significantly compromises performance.
However, organisations whose PMOs adopt agile principles and capabilities are outperforming their competitors and experiencing 2x revenue growth and 3x higher customer satisfaction.
The 200+ year old PMO
A PMO is commonly defined as a group or department within an organisation that defines and maintains the necessary standards for project management.
First established in the 1800s to govern the agricultural industry, traditional PMOs quickly became commonplace in organisations to report upwards on delivery status, monitor and control budgets through top-down governance, ensure standardisation of delivery approaches and build delivery capability.
It is widely agreed that the core function of a PMO is to act as a catalyst for change and delivery. However, since their inception, the way PMOs operate has not fundamentally changed and, unless they evolve in line with the rest of their organisation, there's a risk they could impede rather than accelerate business change and performance.
The need to modernise the PMO
In 2022, the Project Management Institute (PMI)1, the world's leading authority on project management, conducted a global survey that found many PMOs were not fit for purpose to support organisations in today's environment. Findings included:
66% do not develop success metrics with the C-Suite
62% do not have measures which align to the broader organisational strategy and KPIs
35% do not measure customer satisfaction to assess performance
53% do not improve knowledge sharing and transfer
48% do not enable coordination and collaboration between stakeholders
67% do not use technology and tooling effectively to measure the impact of their portfolio
PMOs do not recognise the right skills and capabilities required for success, such as being visionaries, flexible, creative, and relationship-builders.
The Agile PMO
There is a big opportunity for traditional PMOs to improve. In a changing and complex world, the PMO is fundamental to align strategy and delivery, coordinate scarce resource, and drive continuous improvement.
At JCURV, we have found that high-performing organisations have Agile PMOs which perform three key roles: (1) fund and deliver strategy execution, (2) monitor and improve value delivery and flow, and (3) build agile capability across the organisation (see figure 1).
Figure 1. Role of an Agile PMO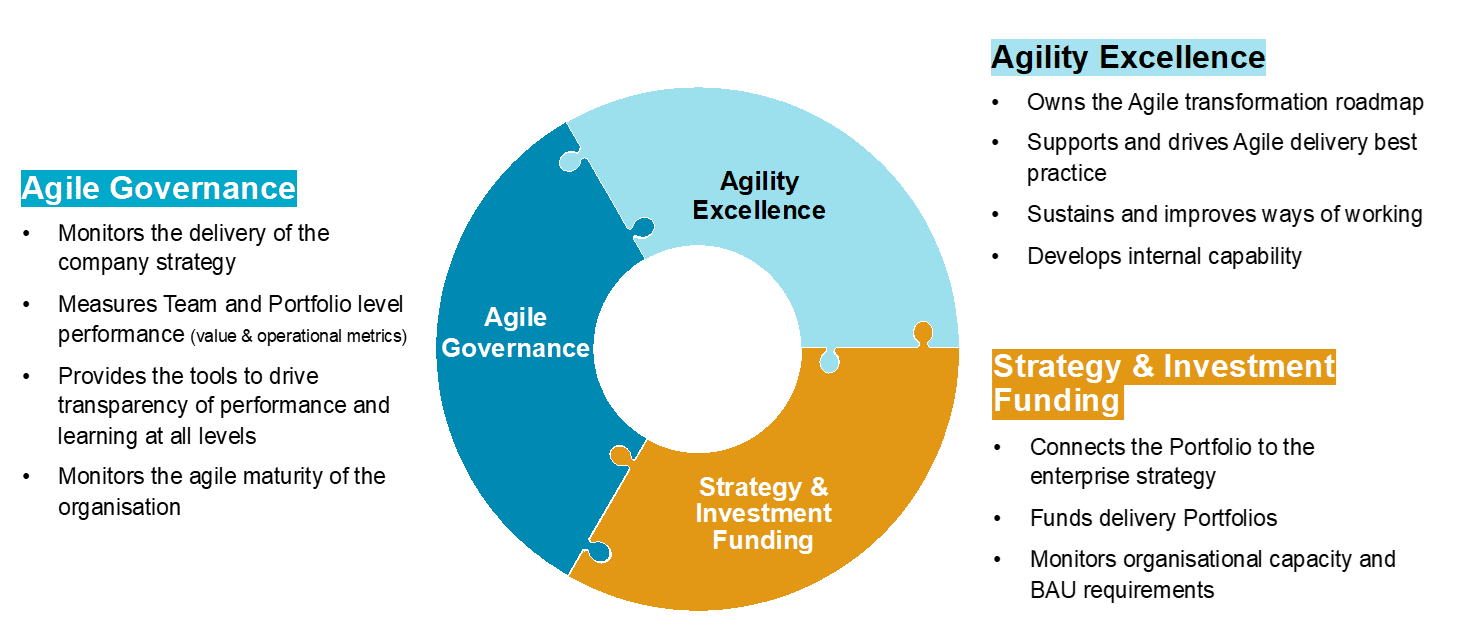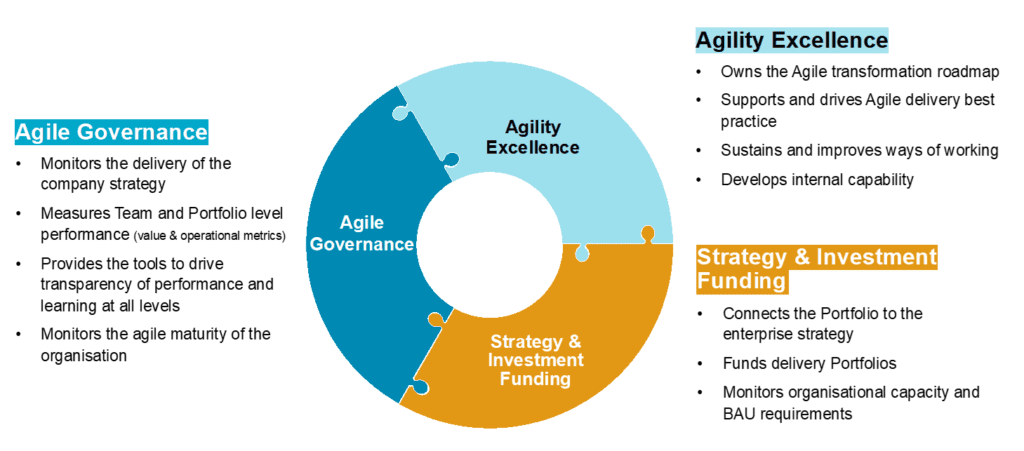 An Agile PMO is more adaptive, flexible, empowering, transparent, and value-oriented compared with a traditional PMO.
The PMI research found that high-performing PMOs (the top 10%), operated in organisations that delivered 2x revenue growth and 3x higher customer satisfaction, and had key attributes akin to those of Agile PMOs.
These core characteristics include:
Sponsorship: operating as a strategic partner with C-suite involvement
Strategic: contributing to the development and delivery of the organisational strategy
Success measures: fully aligning initiatives and objectives and key results (OKRs) to the wider organisation's strategic goals
Collaboration and transparency: adopting tools and techniques that enhance collaboration and communication
Processes: harnessing more adaptive change tools, methodologies, and practices
People and mindset: developing personal skills like leadership, collaboration, and relationship-building with project managers.
The benefits of an Agile PMO
An Agile PMO can provide several benefits to an organisation, including:
Increased agility: supports the adoption of an Agile mindset and principles, helping teams respond faster to change and be better equipped to deliver value to customers.
Greater organisational alignment: provides clarity of strategic intent ensuring greater alignment across the organisation.
Increased visibility and transparency: increases visibility of delivery progress and performance, promotes transparency, and enables teams to make informed decisions.
Improved collaboration and communication: fosters cross-functional teamwork, collaboration, and a constant flow of communication with messages tied to business value and outcomes.
Enhanced customer focus: places a strong emphasis on customer engagement and feedback, ensuring teams are delivering value that meets customer needs.
Faster value delivery: prioritises the delivery of customer value, helping teams to deliver value faster through shorter feedback loops, respond more quickly to changing customer needs, and reduce waste.
Continuous improvement: puts structures in place that support iterative processes, offers frequent feedback and regular reflection on lessons learned, enabling teams to evolve and improve their ways of working.
Improved staff engagement: champions an agile company culture which increases employee engagement levels by an average of 20% and helps prevent staff churn.
Figure 2. Benefits of an Agile PMO over a traditional PMO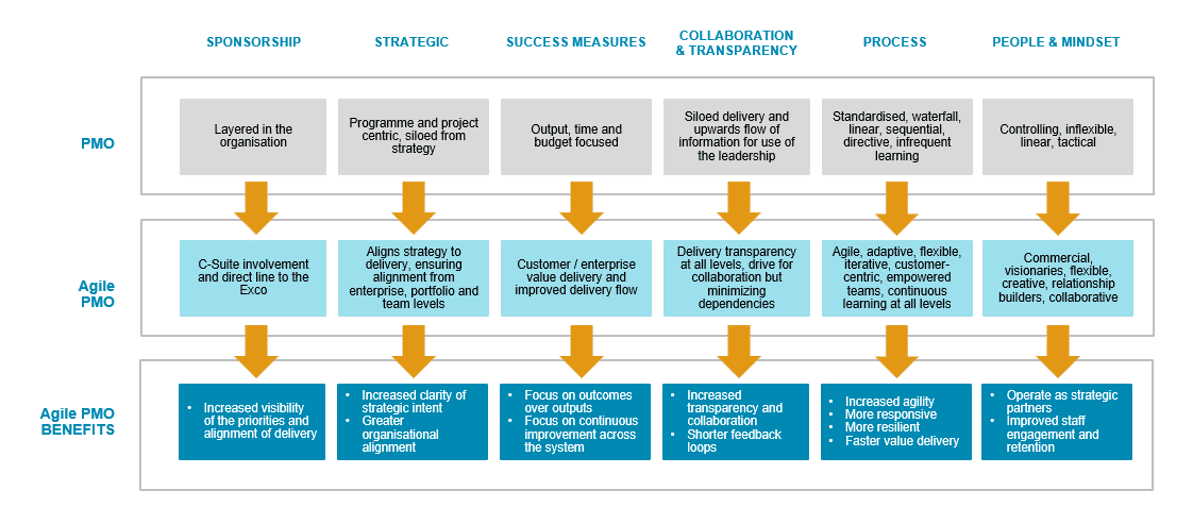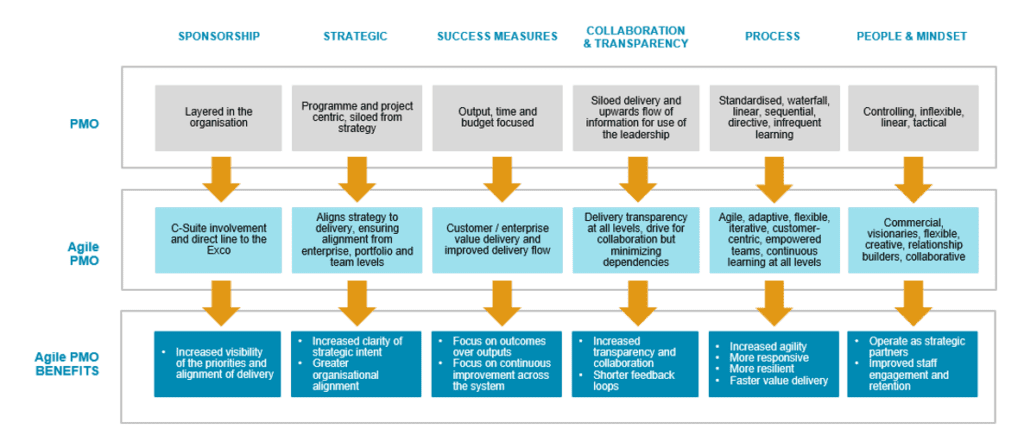 Does your PMO need to evolve?
To understand whether your PMO needs to evolve, ask yourself, does your PMO perform these three key roles effectively, and are the following statements true of your organisation?
Strategy and investment funding:
The Agile PMO and the Exco work hand-in-hand to monitor and adapt the strategy execution and address enterprise-wide impediments to delivery.
There's a golden thread between the strategic business outcomes and the portfolio of work the teams are delivering.
The portfolio of change and BAU continually matches the capacity of the teams.
Agile governance:
There's a governance approach in place that creates transparency of performance, encourages frequent learning, and supports adaptation to the execution of the strategy.
We have tooling that allows everyone to see delivery progress against strategic business outcomes and highlights future risks that require mitigation.
We monitor the agility of the organisation, identifying strengths and opportunities to improve.
Agility excellence:
We have an agile transformation roadmap in place, that is understood and championed by the Exco.
A strong agile community exists, which is empowered to deliver the required changes across the organisation.
There's a platform to share good practices from both inside and outside of the organisation to drive greater organisational agility.
If the answer is no, it may be time to transform your PMO.
Conclusion
The reasons to build an Agile PMO are clear. By being strategically and outcome aligned, adaptive, and focused on continual improvement, organisations with an Agile PMO can respond quickly to challenges and opportunities in the market, outperform their competitors, and deliver world-class change.
JCURV is a London-based management consultancy with a mission to grow the agility of organisations so they can thrive in an uncertain world. We work with organisations globally to support delivering their strategies.