Can An Agile Culture Help Organisations Overcome 'The Great Resignation'?
The UK is now learning to live with Covid: a result of the country's successful vaccine rollout and increasing population immunity. Yet there's no doubt that we will be dealing with the economic fallout for much longer.
Record numbers of people are set to change jobs in a phenomenon known as 'The Great Resignation', limiting the availability of talent to fill key roles in businesses that have begun hiring again.
The bounce-back has resulted in a surplus of job openings and highly sought-after skilled professionals. However, a lack of qualified applicants for important roles – from lorry drivers to office workers – is causing productivity problems across many industries.
Adaptability supports retention
Our latest research indicates that staff shortages are set to be the biggest threat to UK industries in 2022. With The Great Resignation and Brexit's effect on the UK workforce providing the perfect storm for employee attrition, businesses now need to focus on – and re-evaluate – how to retain talent. Our research suggests that those businesses which have been most adaptable during the pandemic are best placed to retain staff and thrive in the next year.
Against this backdrop of business uncertainty, many organisations are adopting agile ways of working to help support and improve both their business performance and company culture. As agile working expands throughout the organisation, we see an increase in employee satisfaction.
We don't need to tell you that high levels of employee satisfaction will help your organisation to retain talent. Instead, we want to discuss whether adopting an agile culture alone is enough to help organisations overcome The Great Resignation.
One-quarter of employees are looking to switch roles
A survey of 6,000 workers by recruitment firm Randstad UK revealed that almost one quarter of employees are actively planning to move jobs in the next few months. The pandemic meant that employees stayed in roles where they were unhappy, as well as some people burning out.
Our experience with clients has shown that employees look for a sense of purpose and meaning from their work, over and above a focus on share price. Many employees want to know they are making a real impact on business outcomes and values.
Agile ways of working focus organisations on quickly delivering high-priority projects which offer tangible value. Over the years, our transformations have supported our clients to apply agile working to over 10,000 employees, driving a 40% increase in productivity and 30-70% faster time to market.
Underpinning this agile transformation is an organisation's culture. It shapes the environment we operate in, and it helps us to work together and hold ourselves accountable to establish a positive set of values and principles.
Agile culture creates an engaged workforce
Companies with strong positive cultures, and a focus on continual learning and improvement, were best able to respond to the pandemic. In our client transformations, we have seen employee engagement levels increase by an average of 20% through this way of working and our research demonstrates that a strong agile culture results in a more passionate, engaged, and happier workforce. This, in turn, increases job satisfaction and employee engagement, helping prevent staff churn.
It also gives teams purpose, efficiency, autonomy, learning loops, impact, and a strong focus on culture, as we show below.
Table 1. Alignment of employee values with agile ways of working

Yet agile working isn't a silver bullet for The Great Resignation. It takes time to implement, and you may not be able to shift culture fast enough to retain employees, as the change curve below demonstrates. People can become frustrated in the short-term, so agile working could present a risk to employees who are thinking of jumping ship.
Fig 1. The Change Curve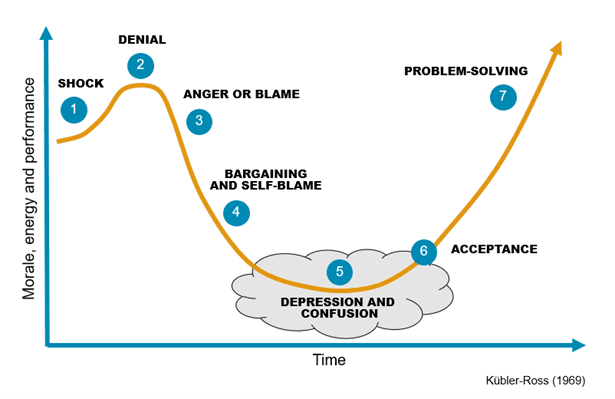 Purpose is only one contributing factor as to why people are leaving their jobs. According to Forbes, the number one driver (77%) for moving to another company is an increase in compensation, while just 5% said they want to work for a more socially aware and purpose-driven organisation.
The average leaver picks up a 30% increase in salary and almost one in four people reported leaving just to get a one-time bonus.
Retention is not just about money
However, while organisations are not always willing – or able – to pay to retain employees, there are additional influential factors which keep employees onside:
career progression
learning and development opportunities
flexibility/ working from home/ hybrid working
staff well-being
good quality, diverse work opportunities
good management and mentors
innovative role models.
People are unlikely to stay in a poor work culture long-term. Data from employee experience app Workvivo revealed that 80% of UK employees feel disconnected from their company culture, and this is a major contributory factor to the mass exodus.
American author, Daniel H. Pink, highlighted in his book DRIVE that pay increases can only go so far, and creating mercenary employees increases risk and can lead to negative outcomes. Yet, addressing employee motivations such as mastery, autonomy, and purpose, which we see with agile, can enable both employer recruitment and retention.
Companies should be able to thrive and provide meaningful employment when they attract and nurture staff who are happy to work for a reasonable salary because they care about, and are engaged with their work.
Companies prompted to invest more in their employees
It looks like The Great Resignation will transform workplace culture and the way companies invest in their employees. We believe agile working also provides a useful tool that will help organisations keep employees off the job boards, enabling long-term organisational success.
Unfortunately, we can't say there won't continue to be turbulent times ahead for UK businesses, but we can predict that embedding an agile culture will be a good solution to help retain employees and allow your business to thrive.